Assassin ist ein DJ, Produzent und Rapper aus der Bay Area. Er hat mit Rapgrößen wie Tupac Shakur, Shock G, Slick Rick, Mopreme Shakur und Thug Life zusammengearbeitet. In diesem Interview steht er 2Pacaveli.de Rede und Antwort über seinen Freund und Partner Tupac Shakur, seine kommenden Projekte und vieles Mehr. Viel Spaß:
NIAMARU: Thank you for doing this little interview, I appreciate it. I'm the webmaster of 2Pacaveli.de, a german Tupac website. I got users from all over the world but mostly from european fans so first of all, please introduce yourself and tell us something about how you first got started in the music business.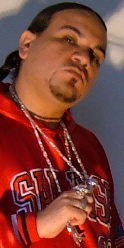 ASSASSIN: Thank you for the support! First thing I wanna say it sure is an honor to have me on your site! My name is Assassin alias Craig "Po" Nitty. I produced and worked with legends such as Shock G, Tupac Shakur, Mopreme Shukur, ThugLife, Roger from Zapp, Slick Rick, Rob Base etc. I got my start as a D.J. thats my first love and will always be my first love is rocking the two turntables! From all the scratching to doing tricks I found myself later with a Casio FZ-1 cheap sampler looping breaks and really got into it by moving into the production end and it was on from that point to moving on up as a producer. I got my first real break by producing for Russell Simmons in 92-94 for DefJam by remixing for Slick Rick, Dee from Boss and South Central Cartel. And hooking up with the homie Pac at the same time was a blessing.
NIAMARU: First, I got to know about you because of a track you did with 2Pac called 'Real Bad Boys', it's a dope song, so how did you hook up with 2Pac, how did you meet him?
ASSASSIN: I met Pac way back before we even recorded together. We met each other at a Gavin Convention in Frisco (San Francisco) way back when he 1st started rolling with the D-Flow Shuttle (Digital Underground). We were backstage clownin' around with Kool Kieth's DJ Kutmaster Kurt. That's when me and 'Pac connected, he was living from Marin to Oakland back and forth at the time and we later hooked up when Russell Simmons flew me out to L.A. to do work for S.C.C (South Central Cartel) and recorded in the same studio Echo Sound and I showed Pac the Instrumental and he busted his verse in 15 minutes to write and like 10 to 12 to bust it topps. That's where we recorded Real Bad Boyz.
NIAMARU: What was the relationship between you and Tupac, were you close or was it just business?
ASSASSIN: When I lounged out with Pac and his brother Mopreme it was more like friends than business. 'Pac had love and liked to see someone from the Bay in L.A. working doing and making major moves, I think it made him feel at home and that's why we connected, me him and Mopreme.In those times I was also working with my Big Brother Shock G who taught me alot on life and making and producing music to this day.
NIAMARU: How was it to work with this man? Everybody says he worked real quick, 3-4 songs a day, is this true?
ASSASSIN: That is the realest 150% true identity of Tupac he stayed in the studio, even though he had a gold Lexus when I met him when nobody even knew what a Lexus even was he stayed in the studio and didnt floss it! He was a hard worker and very vibrant and always full of so much energy. 'Pac had alot of plans that he always talked about. I think if he would be alive to this day he would of been a number one top director like Steven Spieldberg, Spike Lee etc. That would of been probably his next impact on the world, I truely believe that. He loved movies and film and always talked about his treatments for movies to everyone around him and would have parts for everybody.
NIAMARU: Can you tell us something special about 2Pac, something not many people know, a funny story or something like that?
ASSASSIN: Just us running out of Newports (cigarettes) and when I would go to the store and bring him his pack he would always take some out for me, and to me and him we would always laugh when he did that, I dont know why but that was cool of 'Pac and we would just laugh about that.
NIAMARU: On which tracks did you work with Tupac? I only know about Real Bad Boyz and I heard something about 'Soldier Like Me' these days. Is it true that the song was called Judgement Day?
ASSASSIN: That track was called "Judgement Day" how I know is because I made the title up. He wanted to do a track and me and Dee the Mad Bitch picked out and helped make the beat with Stretch. And I called it Judgement Day. And the next thing you know I hear the vocals in the new Loyal to the Game Cd without the O.G. beat.
NIAMARU: Tell us something about the Black N Brown Pride LP.
ASSASSIN: That album is One of my Favorite cds to this date. It's entitled Mopreme Shakur & Assassin present Black & Brown Pride. Me and Mopreme are brothers man, my family is his family straight up and it will be released on Liferdef/Shakur Records which is both of our lables. It has tracks on it that feature all O.G ThugLife. And hard hitting legends from Rapping 4 Tay, Shock G, Public Enemy's Professor Griff to name a few.
NIAMARU: I heard you recorded a remix of Real Bad Boys which features 2Pac, Mopreme, Macadoshis and a new verse from you. Josh told me some details about the LP and it sounds like the whole Thug Life Clique will be on the album, which never happened since Pac died! Tell us more about this project.
ASSASSIN: That track will be on my solo cd "Live Or Die" it's a double cd with seperate cd releases one right after the other. The remix is incredible we kept the beat O.G. with slight changes but added new verses from Macadoshis, Mopreme and myself with a couple surprises.
NIAMARU: You are also working on your new album called "Live Or Die". Will it be a double disc LP as announced?
ASSASSIN: Yes it will as stated earlier, but each cd will drop seperately but at the same time.
NIAMARU: What featured artists can we expect, when will it drop and on what label?
ASSASSIN: C-Bo, Humpty Hump, Mopreme Shakur, San Quinn, Havikk from South Central Cartel, Rob Base and a host of others whom im affiliated with. It will be dropped on Liferdef.
NIAMARU: There's also a new project you are doing with San Quinn, Fillmoe 2 San Jo Part 2, tell us more about that.
ASSASSIN: That's the follow up to me and Jt the bigga figga who discovered THE GAME on Black wall street. But this time me and the hardest spitter out the bay San Quinn are hosting it and are featured throughout the whole cd.
NIAMARU: Recently I heard that you worked with Thruth Hurts and Fredwreck, how was it to work with them?
ASSASSIN: I was just in the studio with them I didn't do no work but enjoyed the Truth Hurts company and lounged out with my highschool buddy Freddy.
NIAMARU: You also worked with the likes of Candyman 187, Shock G and Donny Rizzo who produced the Kadafi Son Rize Mixtape Vol. 1, tell us about that.
ASSASSIN: Them cats Rizzo and Candyman are family straight up. They showed me a good time in L.A. when I touched down and Kadafi's Mom Yasmine is like a mom to all of us and always directs us into what we cant see sometimes which is a blessing. The Havenotz album will be a classic I did like almost damn near half that album with Rizzo. We had a great time and cant wait to hear the finished product.
NIAMARU: Well, you worked with a lot of people in the past but who haven't you worked with that you would like to?
ASSASSIN: Scarface, Ice Cube, Mc Ren. I'm in the midst of hooking up with PUBLIC ENEMY with Professor Griff that's my ultimate along with Rakim and Kool G.Rap.
NIAMARU: Please tell us something about your label, what is it called, who's on there and upcoming releases.
ASSASSIN: I got the DVD dropping soon with mad footage of me SHOCK G and the UNDERGROUND performances and Mopreme freestyles, Candyman, Rob Base, Mellow Man ace and almost everybody who I have been in contact with! I also just signed a production deal with the LEGENDARY ROB BASE (it take's two) we will be shopping deals for upcoming acts and producers.
Havikk from S.C.C Liferdef/Straighthangin'em 2005
Hex - Liferdef 2005
Sydal - Liferdef/Streetsoundz 2005
Uncle Jon - Liferdef 2005
NIAMARU: What are your thoughts on the Yukmouth & G Unit beef?
ASSASSIN: I hope the westcoast and also eastcoast to stop beefs unless it's like the old school hip-hop way where guns and violence never happen. This was started back in the days to have fun not to die over. Let's save the beef's over Block shit and someone fucking with your family type of deals. I hope Yuk and everyone else's beef ends up with no violence for the Hip Hop community and related familys.
NIAMARU: Let's do a little word association game at the end, I give you a word and you tell me what's on your mind:
ASSASSIN:
Bay Area - The Bay is not Back we have been BACK!
Rapping - 4tay!
Producing - Assassin
Favourite Actor - Hannibal Cannibal Lecter
Best Producer - Quincy Jones
Best Rapper - Makaveli
Legend - Tupac
Fake - Media
Thug Life - Eternity
Outlawz - Immortalz
Death - The beginning
NIAMARU: That's about it, is there anything else you want the european fans to know?
ASSASSIN: Thanx to all who support the struggle! And support the real underground kingz who give a fuck about a crown but good music!
NIAMARU: Thanks for taking the time!
ASSASSIN: No dizzout 1luv 1 Thug God bless and (rip) to my pops Manuel Venegas and all the rest of the falling soldierz. Tupac, Yak, Kato, Eazy E, Mac Dre, Stretch, Dmac Tolliver, Charizma, Cougnut, Hitman, Mr C, Seagram, Rappin Ron, Swamp Dog D-cook and The Mack, there's a whole lot to name still and your familys are in my prayers! 1mill. I'm out!